Severodonetsk: Zelensky Ties Fate of East Ukraine to Battle for City
Ukrainian President Volodymyr Zelensky has said that fighting for the city of Severodonetsk may decide the outcome of the war in the east of the country.
"In many respects, the fate of the Donbas is being decided there," he said as combat raged in the industrial belt with Russian and separatist forces.
He said his troops were inflicting major losses on enemy forces.
But Ukrainian forces have been pushed back to the outskirts, according to the region's top Ukrainian official.
Serhiy Haidai, governor of the Luhansk region (which makes up the Donbas along with the neighbouring Donetsk region), said special forces had pulled back after Russia "started levelling the area with shelling and air strikes".
"Our [forces] now again control only the outskirts of the city," he told local media. "But the fighting is still going on, our [forces] are defending Severodonetsk."
"It is impossible to say the Russians completely control the city," he added.
Some 15,000 civilians remained in Severodonetsk and the nearby city of Lysychansk, the governor said.
Russia said on Wednesday that Ukraine was suffering "significant losses in manpower, weapons and military equipment" in the Donbas.
The focus of the war switched to the east at the end of March after Russian forces pulled back from the region around Ukraine's capital, Kyiv. Large parts of the Donbas have been under the control of Russian-backed separatists since earlier fighting in 2014-15.
In another development, UN chief Antonio Guterres warned that the consequences for the world of Russia's invasion were worsening, with 1.6 billion people affected.
African countries could be hit especially hard by wheat and fertilizer shortages, she said.
Millions of tonnes of grain are sitting in warehouses and Ukrainian ports, unable to be exported because of the war.
The figures could be even worse if Europe fully weans itself off Russian energy, the Institute of International Finance warned.
Russia invaded on 24 February, saying it was seeking to demilitarise and "de-Nazify" Ukraine – a claim that has been widely discredited.
War in Ukraine: More coverage
You may also be interested in:
This video can not be played
To play this video you need to enable JavaScript in your browser.
Source: bbc.co.uk
Kaliningrad Row: 'Sanctions Have Brought My Factory to a Standstill'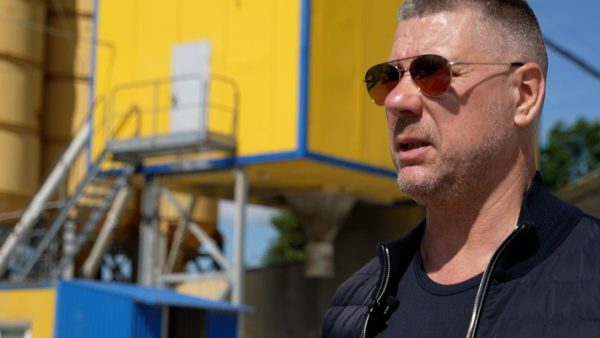 Igor Pleshkov gives me a tour of his concrete business in Kaliningrad.
Not that he's doing much business right now.
Igor's factory has pretty much come to a standstill.
"We produce commercial concrete, iron concrete and paving stones. We first experienced a shortage of cement back in March, after Europe imposed sanctions on Russian banks.
"Trains with cement were being turned back at the Lithuanian border, because the rolling stock was owned by leasing companies who were under sanctions.
"As of June, we haven't produced a single cubic metre."
Kaliningrad is a unique part of Russia. This region is cut off from the rest of the country – the Russian mainland is 300 miles (480km) to the east.
It was the Red Army that seized Kaliningrad (or Königsberg as it was known) from Germany at the end of World War Two. When the Soviet Union collapsed in 1991, Kaliningrad suddenly found itself a Russian exclave in the heart of Europe. It's sandwiched between Lithuania and Poland, both members of the European Union and Nato.
For supplies Kaliningrad has been heavily reliant on transit routes through Lithuania. But this month Lithuania began implementing EU sanctions on certain Russian goods – including construction materials. It won't allow them to transit through Lithuanian territory to Kaliningrad.
This makes Igor's challenge to turn the business around as tough as concrete.
"These sanctions aren't only affecting our business, they affect everyone," Igor explains. "We aren't making anything, so builders can't build anything. There's a chain reaction. We have nothing to pay contractors, taxes or wages."
The authorities in Kaliningrad say there's nothing to panic about and they plan to bring in more goods by sea. But expect logistical difficulties and higher costs.
Back in Moscow, Russian officials are furious. They've been taking aim at Lithuania, the EU, Nato and the West in general.
This week Nikolai Patrushev, head of Russia's powerful Security Council and one of President Vladimir Putin's closest allies, flew to Kaliningrad for meetings. There he warned Russia's response – whatever form it takes – would have "a serious negative impact" on the Lithuanian people.
Russia accuses Lithuania of imposing a blockade on Kaliningrad. That's something Lithuanian officials fiercely deny. After all, there is no ban on Russian passengers transiting through Lithuanian territory, or on Russian goods that are not on the EU sanctions list.
On Kaliningrad's Victory Square, most of the people I speak to have only positive things to say about Europe.
"I hope we can reach an agreement with the Lithuanians on transit, because they're not bad people," Svetlana tells me.
"They're not evil! The Poles aren't bad, either. We don't share a border with Russia, but with Poland and Lithuania. They're like family to us. We need to restore relations."
War in Ukraine: More coverage
Article: bbc.co.uk
EU Leaders to Back Ukraine As Candidate at Brussels Summit
Ukraine is set to be approved as an EU candidate at a Brussels summit on Thursday, after the European Commission gave the green light.
Ukraine applied days after the Russian invasion in February, and the process has since moved at a record speed.
Its ambassador to the EU told the BBC it would be a psychological boost for Ukrainians.
But Vsevolod Chentsov admitted "real integration" could only start when the war was over.
Candidate status is the first official step towards EU membership and France said this week there was "total consensus" on Ukraine. But it can take many years to join and there's no guarantee of success.
The Western Balkan countries of Albania, North Macedonia, Montenegro and Serbia have been candidate countries for years; in some cases for over a decade. Bosnia and Herzegovina applied for candidacy in 2016 but has still not succeeded.
EU leaders also meet their Western Balkan counterparts on Thursday morning, ahead of the main summit, to "build on the existing close ties", but discussions are expected to be difficult.
Some members states are pushing for Bosnia to be given candidate status, although that is not expected to happen. However, there are hopes North Macedonia and Albania may make progress.
'Why should we wait?'
"We do not accept the idea of the queue," Ukraine's envoy told the BBC, arguing Kyiv's eagerness could set an example to other states.
"Every state has its road map, has its path. And if there is political will, if there is support of society [and] business operators to move forward to implement reform in a bold and fast way, why we should wait?"
The real integration process will start when the war is over…. Definitely it will take some time and we are talking about months, not years to get to the next stage
Vsevolod Chentsov
Ukrainian envoy to EU
Moldova's application is also recommended for conditional approval while Georgia is set to be turned down, although the European Commission said the country could belong to the EU in "due time". More than 100,000 people attended a rally on Monday night in the Georgian capital appealing for candidate status.
Several EU states have agreed to back Ukraine's candidacy, provided conditions are attached before accession negotiations can begin, including judicial and anti-corruption reforms.
Mr Chentsov has insisted some reforms can take place, even while the country is at war and not in control of its whole territory.
"We are not starting from scratch," he insists, pointing to work carried out since the EU and Ukraine signed an association agreement in 2014. But it would be "logical" to carry out bigger reforms once the situation on the ground became more stable, he added.
Some EU diplomats have previously voiced concerns that giving candidate status could offer Ukraine false hope.
But Mr Chentsov said no-one had a crystal ball and he felt there was a will "to help Ukraine to get there".
Macron plan for broader EU community
According to draft summit conclusions seen by the BBC, the aim would be "to foster political dialogue and co-operation to address issues of common interest so as to strengthen the security, stability and prosperity of the European continent".
The French leader has suggested the community could include countries waiting to join the EU such as Ukraine and the Western Balkan states, or even those that have left, which would currently just include the UK. However, a number of EU diplomats have rejected the idea as half-baked. The UK left the European Union in 2020.
The Ukrainian ambassador did not dismiss the idea out of hand, saying: "Probably it will be something to consider for the EU, for the UK to join and we can sit at the same table together with the EU, Ukraine and UK."
UK Foreign Secretary Liz Truss has said her preference would be to build on existing structures such as the G7 and Nato.
War in Ukraine: More coverage
Source: bbc.co.uk
Afghanistan Quake: Taliban Appeal for International Aid
This video can not be played
To play this video you need to enable JavaScript in your browser.
The Taliban in Afghanistan have appealed for international support, as the country deals with the aftermath of a devastating 6.1 magnitude earthquake.
More than 1,000 people have been killed and at least 1,500 injured. Unknown numbers are buried in the rubble of ruined, often mud-built homes.
South eastern Paktika province has been worst-hit and the UN is scrambling to provide emergency shelter and food aid.
Rescue efforts are being hampered by heavy rain and lack of resources.
Survivors and rescuers have told the BBC of villages completely destroyed near the epicentre of the quake, of ruined roads and mobile phone towers – and of their fears that the death toll will rise further.
The earthquake struck about 44km (27 miles) from the city of Khost and tremors were felt as far away as Pakistan and India.
Afghanistan is in the midst of a humanitarian and economic crisis, and Abdul Qahar Balkhi, a senior Taliban official, said the government was "financially unable to assist the people to the extent that is needed".
Aid agencies, neighbouring countries and world powers were helping, he said, but added: "The assistance needs to be scaled up to a very large extent because this is a devastating earthquake which hasn't been experienced in decades."
In remote areas, helicopters have been ferrying victims to hospitals. International partners have been deploying medical teams and providing medical supplies.
Afghanistan: The basics
The Taliban run the country: The hardline Islamists took over Afghanistan last year, almost 20 years after being ousted by a US-led military coalitionThere's a food crisis: More than a third of people can't meet basic needs and the economy is struggling, as foreign aid and cash dried up when the Taliban took powerWomen's rights are restricted: They have been ordered to cover their faces in public and teenage girls have not been allowed to go to school
Image source, Getty Images
Most of the casualties so far have been in the Gayan and Barmal districts of Paktika. A whole village in Gayan has reportedly been destroyed.
"There was a rumbling and my bed began to shake", one survivor, Shabir, told the BBC.
"The ceiling fell down. I was trapped, but I could see the sky. My shoulder was dislocated, my head was hurt but I got out. I am sure that seven or nine people from my family, who were in the same room as me, are dead".
A doctor in Paktika said medical workers were among the victims.
"We didn't have enough people and facilities before the earthquake, and now the earthquake has ruined the little we had," the medic said. "I don't know how many of our colleagues are still alive."
Communication following the quake is difficult because of damage to mobile phone towers and the death toll could rise further still, a local journalist in the area told the BBC.
"Many people are not aware of the well-being of their relatives because their phones are not working," he said. "My brother and his family died, and I just learned it after many hours. Many villages have been destroyed."
Image source, Getty Images
Afghanistan is prone to quakes, as it is located in a tectonically active region, over a number of fault lines including the Chaman fault, the Hari Rud fault, the Central Badakhshan fault and the Darvaz fault.
Over the past decade more than 7,000 people have been killed in earthquakes in the country, the UN's Office for the Co-ordination of Humanitarian Affairs reports. There are an average of 560 deaths a year from earthquakes.
Even before the Taliban takeover, Afghanistan's emergency services were stretched to deal with natural disasters – with few aircraft and helicopters available to rescuers.
But more recently, the country has experienced a shortage of medical supplies.
According to the UN, 93% of households in Afghanistan suffer food insecurity. Lucien Christen, from the Red Cross, said Afghanistan's "dire economic situation" meant "they're [Afghan families] not able to put food on the table".
Original Article: bbc.co.uk